Let's start with some trivia… What's hot, cold, wet, dry, and depressingly dark?
If you said "winter in the Carolinas", you got it right! We're offering free spring passes until June, get 'em while they're not too hot!
In all seriousness, meteorological winter just wrapped up, so I wanted to do a quick review of everything we've endured and enjoyed over the last few months. A quick shot of cold and light snow in the mountains of North Carolina on December 1st gave way to a relatively mild couple of weeks leading up to Christmas. That was fairly status quo, I think we've all grown accustomed to warmer-than-average Decembers in recent years. This year, however, the western portion of the Carolinas shook things up with a beautiful snowfall on Christmas Eve. It was a real treat in the midst of 2020's insanity, especially as a few snow showers broke containment on Christmas Day and drifted into Central and Eastern North Carolina. It was the first (low elevation) White Christmas in Western NC since 2010.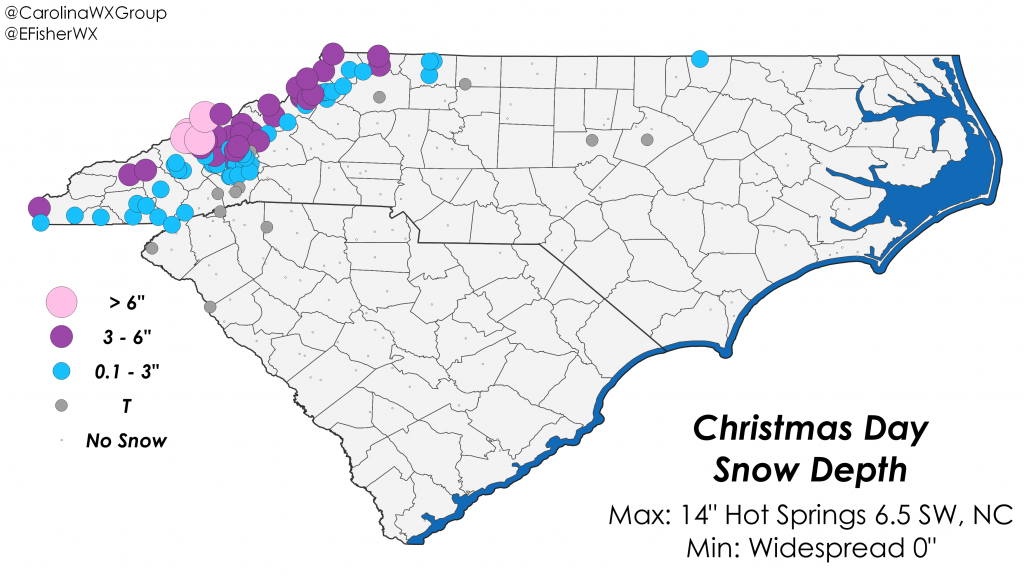 Fast forward to New Years Day, and the Carolinas were divided by the seemingly ever-present "wedge". Cold-air damming led to cool temperatures and heavy rain in the Piedmont and Foothills of NC, but the Lowcountry of South Carolina sky rocketed into the upper-70s and low-80s. Charleston, SC recorded its warmest New Years on record, with a balmy 80°F observation at the airport around 1 PM.
January never got too warm, but it also never got too cold. Afternoon highs were close to normal across the Carolinas throughout the month, but nighttime lows continued with the multi-year trend of staying above average. A major system rolled through on the 8th, breaking the hearts of thousands of snow lovers across Western NC. Forecasted snowfall totals of 4-8″ in the Asheville area never materialized, and some places saw less than half an inch in the central French Broad Valley. We can be honest, that one hurt a bit. It's never fun getting a forecast wrong, but we learn from each mistake and apply that knowledge to future events. There were areas where the forecast verified, with totals in the 4-8″ range across the Foothills and High Country of Western NC. Flakes flew as far east as the Pamlico Sound, with light accumulations around Greenville, NC. Another moderate snow event impacted central and eastern NC on the 27th and 28th of January, bringing several inches of snow to locations north and east of Raleigh.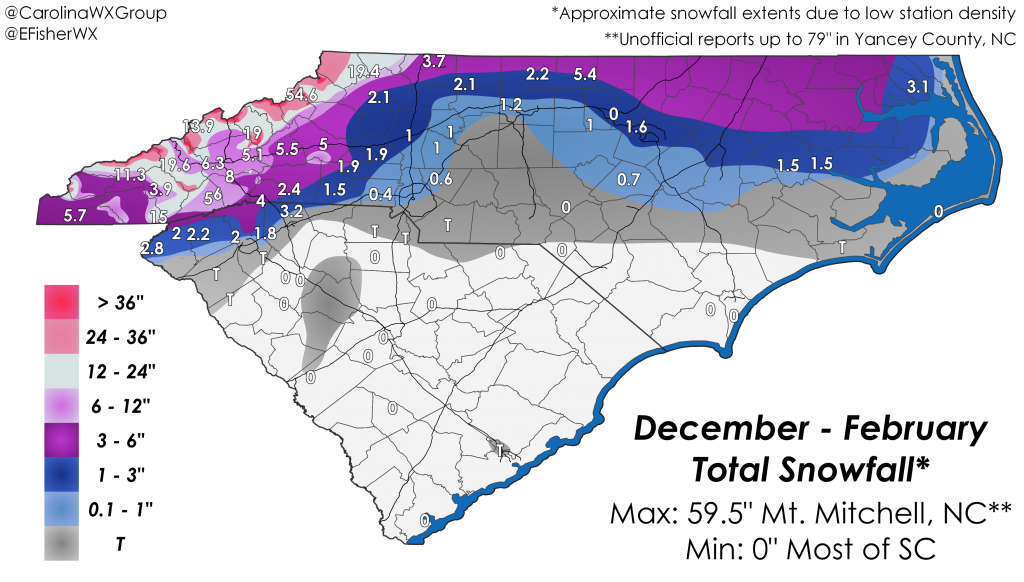 February was the needle that almost broke the figurative camel's back. Cold-air damming led to a series of back-to-back ice storms across the northwestern Piedmont of NC, causing tens-of-thousands of power outages and significant tree damage. A lot of us didn't see the sun for 10+ days, and you could count the diurnal range on one hand. The first three weeks of the month were some of the dreariest in recent memory… Thankfully, the "wedge" finally broke on the 23rd, and seasonally warm temperatures dominated the last few days of the month.
All in all, it was a decent winter for those who like cool weather. We didn't have any major snow storms on the order of 12″+, but numerous events brought flurries into Eastern NC, and one event dropped grapuel all the way to Charleston, SC. Temperatures were mostly below normal, and snowfall totals varied across the state. One thing that I haven't mentioned is the well-above average precipitation totals, particularly in the eastern part of the region. Several stations broke all-time winter precipitation records in the Raleigh area, where 15-20″ of rain fell in the months of December, January and February.
As we head into meteorological spring, we're hoping for mild weather and no severe weather. Unfortunately, we rarely get what we want when it comes to the weather, Mother Nature does as she pleases. Keep an eye out for the occasional cold outbreak, and remember that freezes can occur as late as May in parts of the Carolinas. Good luck to everyone as we enter the second annual "I swear it's allergies, not COVID" spring season. Pollen counts are already spiking, so buckle down on your favorite allergy medicine.
Lastly, we've got some exciting news to share in the next few weeks! We want to make the Carolina Weather Group more collaborative and open to community involvement, so be listening for a big announcement!